⁸Art Directors needed to Work Remotely.
A business magazine based in Lagos is looking for a talented Art Director to take charge of their magazine while working remotely.
To qualify for this job, all you need do is:
1. Design a Magazine cover with one of the copy and other details below.
Name: Business Magazine
Slogan: Empowering Nigerian entrepreneurs
Copy 1: Business Made Easy,
Sub-head: Changing the narrative
Copy 2: Money Talks Tech
Sub-head: The Fintech Edition
2. Post the design on your page and tag (@livewithlynda)
3. Make sure you use the hashtags #TheBriefCase #LivewithLynda
Note: You are to design the cover with the direction you think is best for the chosen copy using either human elements or illustration and text.
Feel free to add other elements you deem relevant to a magazine cover of this nature.
I'll repost all qualified entries on my page and choose the best options to proceed to the next round.
Deadline is Thursday, 25th July.
Good luck!
ART DIRECTOR( SALARY -150000 Naira)
Fulltime Postion but expected to work remotely
Required to be at the office maximum of 3 times a week
Strong Knowledge of Adobe suite or equivalent software
Strong Photography and photo editing skill
Ability to multitask
Animation/Motion graphics knowledge required
Strong interest in media and Tech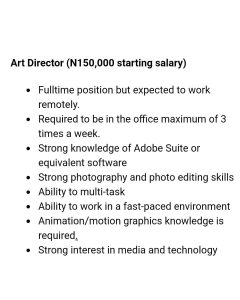 APPLICATION LINK:
Application Phone Number:
Application Email:
Terms & Conditions For Job:
Feature Picture for Job Post: