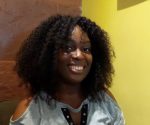 Chioma Chiatula
Writer/Creative Industry Professional
Candidates About
Phone Number:
Nigerian Screenwriter/Director/Producer living in Nigeria.
She earned her bachelor's degree in Economics in the University of Nigeria Nsukka.
But she knew creating policies that improve her country's economy wasn't right path for her so she took a leap, put her dreams of becoming a filmmaker into action and attended the New York film Academy in Los Angeles in 2014. Her focus turned to screenwriting after school and she has written and co-written four feature screenplays and a TV sitcom, ADAM'S CRIB, and over four short films. She has worked as a Assistant director, Line producer and productions manager.  One of her earliest memories was watching Nigerian movies in the mid 90s, which ignited her love for movies. She's always loved connecting with people and finds it a privilege to be able to use Filmmaking to do so.
Primary Profile :
Creative Industry Professional
Whatsapp Mobile Number: