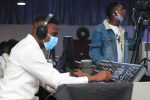 Damilare Oke
Audio Engineer
Candidates About
My name is Damilare Oke,
I have a reserved personality and love to be at home mostly when I am not at work.
I am a practicing sound/audio engineer with over 5 years of experience.
Primary Profile :
Audio Engineer
Software Proficiency:
Proficient in digital technology including MIDI application, studio one, DSP, sound forge and a variety of digital mixing software.
Phone Number:
Whatsapp Mobile Number:
Work & Experience
Audio Engineer

God's Chamber Ministry

2016- 2021

Audio Engineer

God's Chamber Ministry

2015-2021