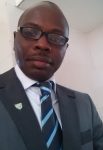 Dola Adeboye
Researcher and Writer
Candidates About
Phone Number:
I am professional research scientist of over 14 years' experience and embodiment of responsibility. I hold a PhD in Food Science from the University of Pretoria, South Africa. I am a certified trainer in Leadership and Entrepreneurship from Junior Chamber International (JCI) University, United States, certified Professional Scientist from South African Council for Natural Science Profession (SACNASP), South Africa, a trained Food Safety internal Auditor from BSI Training Company, United Kingdom.
My unstinting commitment towards my job enabled me to serve as an Entrepreneurship Trainer-Facilitator in Food Science and Technology, MAPOLY, and the National Secretary, Nigeria Institute of Food Science and Technology (NIFST), a membership-based organization of over 10,000 members from 2011 to 2015 concurrently. As the National Secretary, I developed the five (5) year strategic plan for the institute, being the first time that was done in the history of the institute. I was also involved in the management of the communiqué of the Professional body for robust and innovative collaboration with government agencies for the achievement of important food security goals.
My passion for impact and drive for sustainability of systems precedes my competencies in value chain management. In the different capacities enumerated, I gathered communication expertise with considerable capability in human resource development, skill facilitation, mentoring and message development in project reporting.
As the National Public Relations Officer of the Nigerian Institute of Food Science and Technology (NIFST) (2018-2020), my team has successfully raised the profile of the institute to put the system in order for the achievement of important goals.
Due to my enthusiastic and conscientious personality, I was admitted to the distinguished life-time and highest category of the JCI membership- the JCI Senator in 2017. (www.jci.cc)
I have published 12 research articles, over 40 conference papers, co-authored 3 books, and 2 e-book chapter.
Primary Profile :
Researcher
Whatsapp Mobile Number:
Education
2014-2018

University of Pretoria, South Africa, Gauteng, South Africa

Doctoral Degree (Food Science)

November-December 2020

KPI Institute

KPI Professional

Performance management of people and processes. Certification implies competence to lead team to achievement of KPI (Key Performance Indicators) and capacity to develop content that teaches same
Work & Experience
COORDINATOR

NIFST (www.nifst.org)-WUR (https://www.wur.nl) project

November 2019 - September 2020

A collaborative project between the Nigerian Institute of Food Science & Technology (NIFST) and Wageningen University Research (WUR) Team on improving the nutritional status of street foods in Nigeria. Study Location-Lagos
As Coordinator, I was involved in

– Designing of the baseline and intervention local protocol
– Training of the enumerators and moderators on the scheduled protocol
– Coordinating stakeholders engagement and focus group discussions
– Coordinating street food consumer survey and street food vendor observation
– Coordinating data collection and data entering process
– Tracking KPIs of strategic objectives of the project.

Lead Consultant (Freelance)

KNEWROW RESOURCES (www.knewrow.com)

2018-Date

1.Research and Content Development for Training
2. Training trainers on module delivery

Coordinator

Deutsche fur International Zusammenarbeit –GIZ project

Dec 2018 – Jan 2019

Oyo State Supervisor: GIZ project implemented by AFRI-CIRD. A national survey on 'Strengthening Market Institutions and infrastructure'- in six states Oyo, Ogun, Edo, Kaduna, Niger and Plateau States