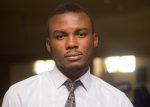 Jojo Lucky Ijeokwukwe
Graphic Designer
Candidates About
Highly trained and result oriented in the creative industry and business management. A visual storyteller who creates memories and helping Businesses succeed in communication, customer service, graphics design, branding, e-commerce, Management, business administration, and entrepreneurship.
Possess an exceptional work-ethic and client service aptitude, dynamic and enthusiastic, work well in teams to meet deadlines and solve the complex task. Excellent communicator, leverage on working relationships with both staff and clients, great interpersonal skills. Consistently showcase the ability to provide solutions.
Exceptional skill in graphic design, proficient in the use of CorelDraw, Adobe creative suite, Microsoft word, excel tools. Impressive team-building skills, passionate about self-development, and continuous professional growth.
Candidate Video:
Primary Profile :
Graphic Designer
Phone Number:
Whatsapp Mobile Number: