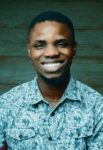 Maduakolam Chidi John
Photographer/Photo Editor
Candidates About
I am an ambitious individual, who is dogged creatively. I am open to learning and I selflessly put in my best to work.
I have over 4 years practical experience as a photographer, working as a freelancer and with an employer. I have gained experience while offering selfless service in technical department of Churches where I worshiped from 2017 to date.
I put the job first before any other thing, this is why i meet deadlines when given a task or a job to complete. I improvise where I have limited tools to work with in other to complete the task at hand.
I have practical studio experience, with knowledge of lighting, framing, capturing and editing. I also have practical experience of outdoor photography such as wedding photography, birthdays, conference and so on.
Primary Profile :
Photographer
Phone Number:
Whatsapp Mobile Number:
Education
2013/2017

University of Benin, Nigeria

B.A
Work & Experience
Photographer/Graphic Artist

Studio24 Nigeria

November 2019/to date

Still Camera Operator

Divine Hand of God Ministries, Abuja

August 2019/October 2019

Intern

Audio Visual First Advertising Agency

2018/2019