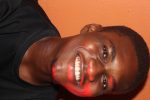 Nkwachi Nwaobasi
Audio Producer
Candidates About
Audio Producer.
While working at my first official job, which was to edit audios which were to be played for repeat at their repeat days and time.
While editing one of the shows, the oap Yinka Ekugomi started called me Bobs Production and yes that was when the drive or rather the dream of being and audio producer started.
ever since the I've been taking youtube tutorials on audio production and also signed up for SOUNDGYM an online sound and audio hearing enhancing tutorial.
Started an online class with Allison, but I haven't been consistent with the classes.
Primary Profile :
Audio Engineer
Software Proficiency:
Audacity, Adobe Audition, Pro Tools
Phone Number:
Whatsapp Mobile Number:
Education
02/14 - 07/19

Leads College

High School Certificate
Work & Experience
Audio Producer

The Voice Radio

10/20 - 01/21