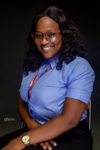 Oladimeji Titilayo Victoria
"Screen writter", "Actor", "Singer", "Social worker".
Candidates About
http://Titilayo loves acting, writting, singing, traveling and learning. I am a result oriented person and I have the ability to work with different people from different profession, I have a good verbal communication skill and I also take to correction and love learning new things in a very short period of time. I love seeing and getting involved with progress and success anywhere I find myself..
Primary Profile :
Actress
Outfit Size:
Size 14
Phone Number:
Monologue / Showcase Video/ Show Reel:
Whatsapp Mobile Number: