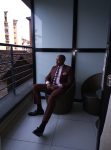 Sandile Bunjwa
Business Director, Creative Director & Strategist
Candidates About
My name is Sandile Bunjwa, a qualified Executive Creative Director, with many years of experience with outstanding results.
I started my career in an in-house marketing environment (i.e. Ocean Basket) as the head of creative, helping the brand to find its niche in the market (positioning) as well as helping it to differentiate itself in its competitive environment; something which was achieved with flying colours. From there, I moved on to join the mainstream advertising at Saatchi & Saatchi CTN and three years later,  I went on to East Africa (i.e. Ogilvy) and worked very closely with the C/S Director as a Creative Director as well as a Strategist  – please see CV attached and portfolio in 2 other e-mail messages.
Working with various iconic brands in many parts of the continent has allowed me an opportunity to expand my faculty beyond what an average advertising practitioner would be expected to do.
Over and above everything else, I've also developed Proprietary Tools, tools to help clients achieve the very best with their brands in terms of building and strengthening their Brand Equity, establishing consumer-brand love and Market Growth for their brands, amongst other things. I would very much like to share what I have and what I've learned over the years and contribute positively to the growth of both client brands and the company that would be paying me.I look forward to hearing back from you and I thank you in anticipation for that response.
Primary Profile :
Creative Industry Professional
Phone Number:
Whatsapp Mobile Number:
Education
2005

Voice Clinic - Cape Town

Certificate:

Power Speak, presentation course

2004

Advanced Advertising and Marketing course

1994-1995 –

Red and Yellow School

Diploma:

Advertising, art direction and strategy

1992

Graphics design and Advertising

1985 - 1988

Central Secondary

Certificate

Matric
Work & Experience
ECD (Business Director) and Strategist

PMC-Zambia –

January 2013 – 2019 December:

Responsibilities:
• Running the agency, giving business strategic direction to the company
• Big client presentations and business pitches
• Strategic planning, presentation and implementation
• Creative conceptualization and reviews
• New business
• Mentoring and appraisal of individuals and teams
• Managing existing portfolio and growing business organically by giving direction to
client service, creative teams and strategy department
• Relationship management between agency and clients
• Accountable for business financial portfolio

Executive CD and Strategist

Saatchi & Saatchi Zambia –

October 2011 - December 2012

Responsibilities:
• Understand and define target markets, their attitudinal equity towards certain brand categories and provide an actionable strategy
• Help in coming up with Ownable Brand Ideas (Big Ideas) across all ATL platforms, BTL and Digital/Social channels
• Help in positioning the brands, differentiating the brands and finding their relevance in various consumer groups
• Helping in brainstorms to come up with consumer engagement approaches that are in line with brand strategies
• Help creative by providing info to create clear, relevant and compelling creative work
• Sell strategic approach and Big Ideas to clients to make it easy for the agency to sell creative work
• Drawing up of career development paths, mentoring, developing and managing Client Service, Strategy and Creative personnel by tracking and assessing their performance
• Creating a culture of working together, a culture of fun and excellence within the agency
• Clarifying client briefs to the agency and giving direction for creative and accurate creative delivery
• Work with various departments to do big client presentations

Africa Business Network Manager

Saatchi & Saatchi Johannesburg

January 2009 - August 2011

I was managing 15 different offices in Africa i.e. (SA: Cape Town & Johannesburg, Zimbabwe, Zambia, Namibia, Botswana, Ghana, Nigeria, Uganda, Kenya, Mauritius, Mayotte, Madagascar, Seychelles and Reunion)

Major achievements:
• United and re-invigorated the wilting Network by contributing to the overall positive morale of the worker.
• Raised work standards, showed and demonstrated to the Associates, the value of being part of the Saatchi & Saatchi Africa Network.
• Assisted in the overall profitability of the Associates' businesses by introducing better processes and new Ways Of Working (e.g. Monthly Business Report, New Business Strategy, Africa Business Information Portal for the group)
• Facilitated workshops where associate teams could share their work and new creative ideas
• Made sure that Saatchi & Saatchi global best practices and standards were applied and delivered upon, on all client accounts in the Network

Accounts Director

JWT Marketing in Johannesburg

May 2006 - 2007

Managed various accounts, ensuring timeous and optimum delivery on clients' jobs. The biggest task were to make certain that all jobs were on strategy and addressed the clients briefs accordingly.